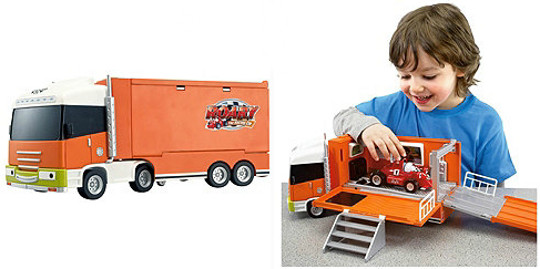 Roary The Racing Car And Loada The Transporter Truck Playset will make a brilliant birthday or Christmas present for a little fan of the TV show - its large and probably comes in a big box, and costs only £10 instead of £24.97. Delivery to Tesco stores is free.
Roary the Racing Car is a sweet little race car who goes about life at Silver Hatch racecourse with his friends. He is a young and enthusiastic junior single-seater racing car, who is inexperienced and often makes mistakes. With the help of his friends, he always learns from them. This set 'combines vehicles play and playset play with sounds and phrases from the show'.
In the set you'll find Roary and Loada, the race day truck. There's also a workshop inside the truck where Roary can get ready to race. Roary can then  drive down the ramp and out to the race track. Roary can also be fueled inside the truck. Loada has a real working winch and built in lift for 'changing tyres' and tuning.
Roary and Loada both have free moving wheels for pushing them along.
Thanks to wishihadadonkey at HUKD