Reindeer, Rudolph, Santa And Snowman Hand Towels £1.99 Each @ Dunelm Mill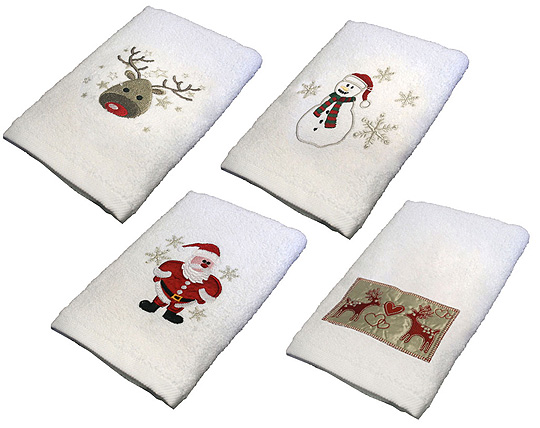 Dunelm Mill are selling these rather fabulous reindeer, Rudolph, Santa and snowman hand towels for just £1.99 each.
Oh my goodness, I knew I shouldn't have looked!  I adore transforming the house into something resembling a traditional Christmas card - strings of nuts hang on the Christmas tree and around a huge nut garland, with ribbons, is draped around the fireplace...that sort of thing.
There's a second tree in the dining room which displays all the various Christmas decorations people have bought me over the years, and from all over the world - looking at it and remembering where everything comes from, and given by whom, is one of my favourite things (with a glass of sherry in hand, of course!).
There are various other festive touches all around the house - a lit nut and berry garland twines its way up the banister and now I NEED these reindeer, Santa and snowman hand towels to grace the kitchen and bathrooms!
Resistance really wasn't going to be an option - I have a 'thing' for towels as it is, but CHRISTMAS towels!  Well, that's just a little bit of festive heaven for me; I was in my local Dunelm Mill, with my daughter, just a couple of weeks ago - if I'd seen them then, I'd have bought some.
They have either a Santa, Rudolph, snowman or reindeer motif embroidered on them (the Rudolph and snowman ones are probably my favourites), they're machine washable, can be tumble dried on a low setting and ironed too (if you're into ironing your towels (although, seriously, either someone else is doing that for you or you have nothing better to do!)).
If your local Dunelm Mill has stock, and you order before midday, you can pop along and collect your Christmas hand towels after 3pm that same day; hurrah! You're out of luck if you were hoping to have them delivered to you in time for Christmas day though, sorry.
Thanks to scorpiok at HUKD