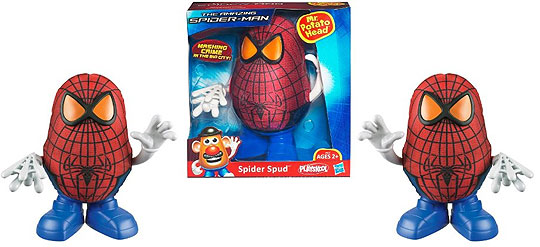 Ohhhh now this Mr Potato Head Spider Spud really appeals to my Mr Potato Head sense of humour and Amazon are appealing to my 'spider deal senses' by having him up for grabs for £7.61 at the moment, instead of his usual £14.99.
Mr Potato Head, in any form, has to be one of the most surreal toy concepts ever put forth by a toy designer.  I mean, did they really think that a plastic potato shaped body which you stick arms and legs into, and then facial features onto would be as enduring as he has been and after his debut in Toy Story, continue to gain popularity?!
I think probably not, but I LOVE that he has and I LOVE his new incarnation as Spiderman, sorry, I mean: SPIDER SPUD!
There are that many Mr Potato Head Spider Spud puns just dying to make an appearance in this post, that I'm going to wrap things up very quickly before I embarrass myself with them - Mr Potato Head Spider Spud is suitable for young spud fans aged two years and over and comes with everything your potato hero needs to get dressed up and ready to fight crime and mash up the bad guys!
Thanks to wishihadadonkey at HUKD