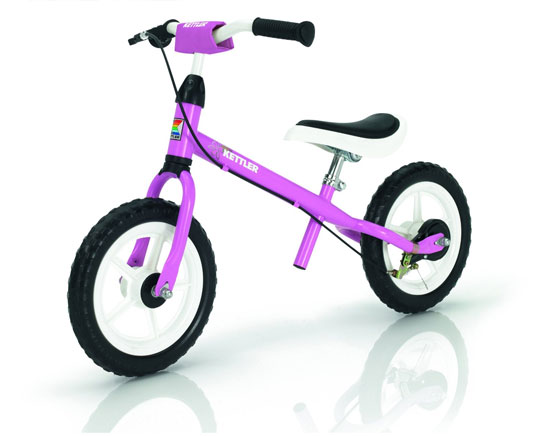 Amazon are selling this pink Kettler Wheel Speedy balance bike for £28.97 rather than £39.99.
ARE balance bikes really better in helping children to learn how to ride bikes with pedals much faster than starting off with stabilisers first?
I really can't help you answer that question from personal experience - Lynley's the person for that and she thinks they're GREAT!  In fact, every parent I've spoken to about them agrees that their child's sense of balance has developed very quickly from riding them.
Balance bikes don't have any chains, there's no pedal coordination to be concerned with, just scooting along as fast as you can, picking your feet up and learning how to balance on two wheels almost on a subconscious level.
If you're still not convinced, read this review:
My daughter received this two months ago for her 3rd birthday. At first I was sceptical as I watched her walk the bike along, but I followed advice to leave her alone, and sure enough, she was soon sitting on the seat and pushing herself along. A month later, I began to leave the buggy at home for the mile long walk to her brothers' school, and two months later I need my bike to keep up with her!

She's flying along and her balance is amazing; she can lift both legs and coast down slopes without a bother. I'm sure the transition to a pedal bike will be seamless whenever she's big enough. I would recommend these bikes to anyone. We're lucky that there are plenty of safe cycle lanes separated from the road, and wide pavements near our house.

My only reservation is that if you're going to be using it anywhere near traffic, make sure the child has a firm understanding of the importance of waiting for Mum or Dad at each kerb, because it's soon hard to keep up. The brake is a godsend, although I have to remind her to use it, as feet are preferred!
Thanks to n220301 at HUKD