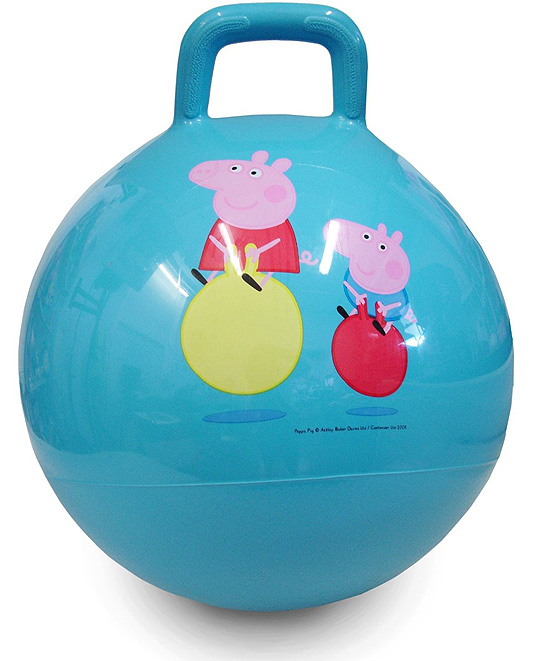 Okay, I'm really scraping the bottom of the Christmas presents you can have delivered in time for Christmas, still, - but if you're desperate (and I'm talking about you, not me!) and you have a Peppa Pig fan to buy for, then perhaps this Peppa Pig 'space hopper' might get you out of a tight spot.
Amazon are selling them for £6.99, rather than £7.99 (yes, only £1 off, but late-Christmas-present buyers can't be choosers!) and to have it delivered in time to wrap up on Monday is going to cost you about the same (like I said, beggars and choosers...)
Of course, if you've got Christmas all wrapped up and are in 2013 present mode already, then you don't have to worry about paying for pre-Crimbo delivery and can look smugly at those who do!
SO, the Peppa Pig 'space hopper' - actually, it's a Peppa Pig Sit n Bounce, but that's not as easily imagined as a Peppa Pig 'space hopper' is (I hope the original Space Hopper people won't be too cross with me!) - it's blue and features an image of Peppa and George happily bouncing away on theirs too.
It doesn't come with a pump, but it does come with rave reviews:
"I bought this for my 2 year old daughter and she absolutely loves it. She really enjoys bouncing on it all the time, and it is an added bonus that it has Peppa Pig on it (who she can't get enough of at the moment). She also uses it to play catch with and is getting very good at that too!
I think it is really good value for money and so far seems to be pretty durable. We've had it a few months and it's even survived a day-trip to nursery to be shared with her friends outside on a tarmac play area. (and I was asked where I got it from as others had struggled to find a nice, smaller-sized one for their younger children).
It's great, simple fun, gets her exercising outside in the fresh air, and encourages balance and co-ordination, what more can you ask of a toy?"
The rest are pretty similar too; I don't think I need to say any more...
Thanks to philipascalla at HUKD