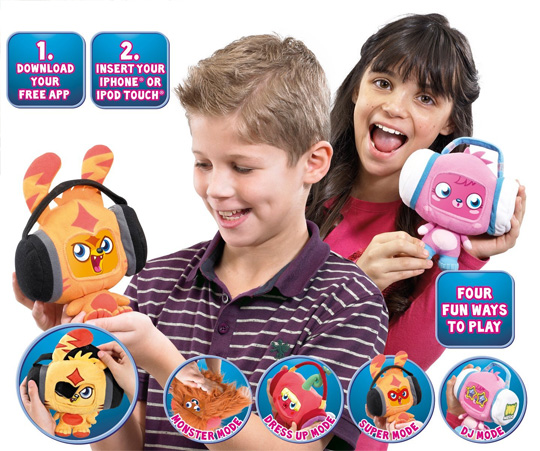 I'm not sure whether or not these Moshi Monsters App Monsters are fun or just a complete waste of time and money, whether they're for kids or grown ups - seriously!  So I'm going to tell you about them and then you can decide.
So here's the deal: you pay £4.59, instead of £22.99, for the two Moshi Monsters App Monters Poppet and Luvli.  When they've arrived and you have them in your hands, you put your iPhone or iPod inside them and they come to life.
You can interact with your monster--poke it, shake it, dress it up and even listen to music on it. There are four modes of play, which include:
Monster Mode: Activate monster mode for silliness and crazy noises. Poke them in the eye and make them giggle. Move them, shake them or touch their face. Leave them alone and they'll get grumpy. Lay your monster on its back and it will sleep. Touch their mouth to feed them. Hold them upside down to put your monster back into Monster Mode.
Dress Up Mode: Dress your monster with items from the marketplace shop. Choose from wigs, hats, moustaches, lips, eyebrows and comedy noses.
Super Mode: Become a Super Moshi with your super hero mask and flying noises.
DJ Mode: Become the DJ of your own phone in a funky pair of glasses. Play Moshi Music along with music saved on your iPhone. Fast forward or skip tracks at the top of the DJ's glasses. Press the monster's glasses to skip tracks.
Now, the recommended age range for these Moshi Monsters App Monsters is between four and eight years old, which is what's causing my confusion - how many four to eight year olds have an iPhone or iPod?!  Maybe I'm just out of touch...
 Thanks to pinkchocolate1985 at HUKD