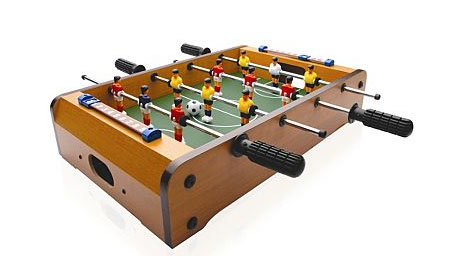 Debenhams are selling a mini football table for £10.62 instead of £25.
I'm mesemerised by people who can play table football really well because I'm absolutely rubbish at it; I'm rubbish at real football too now I think about it.
It's made of wood which I think is a big plus, it just looks so much more...'classy' is the word that springs to mind but I'm not sure that's really what I mean.
Anyway, it's made of wood, measures 51cms x 10.5cms x 31cms and you are going to employ your self-assembly skills before you can show off your table football skills.
The mini football table is suitable for kids aged three and over, presumably because of the small ball choking hazard.
If you don't have much room but have always hankered after a mini football table, then this one is ideal and includes six players per team on two rods, two footballs and a manual score counter .
If football isn't your thing and you're more of a pool wizard then there's also a mini pool table up for grabs for the same price too
The published price on the Debenhams website is £12.50 - just enter these codes and it'll come down to £10.62 and you'll get free delivery too: PU6P for the discount and SHD1 for free home delivery or you can arrange to collect your mini football table or mini pool table, for free, from your nearest Debenhams store.
Thanks to lucerysmum at HUKD