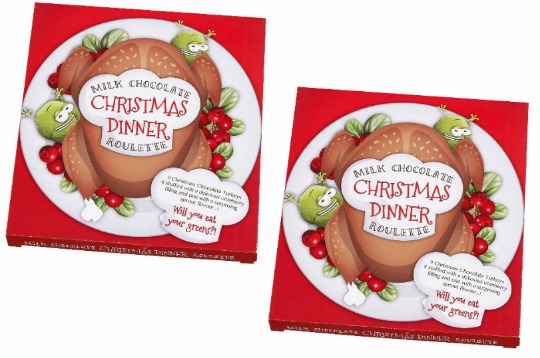 Games are always good at Christmas time. We think this Milk Chocolate Christmas Dinner Roulette looks like hilarious fun. It's only £8 from Very and we reckon that it'll be worth every penny with the laughs it'll bring. Do you like to have some silly nonsense at night on Christmas Day? It's certainly become a tradition in our household. Some games are way too grown up for the kids, but this is just the ticket for the whole family. Kids just LOVE anything that's a bit yucky.
So, what's Milk Chocolate Christmas Dinner Roulette all about? You get NINE Christmas Chocolate Turkeys, eight of them are stuffed with a delicious Cranberry festive flavour, whilst the other one tastes of Brussel Sprouts inside. MMMM! Sounds delightful!
No-one wants to get that gross sprout flavoured one and that's the fun part. If you happen to like Sprouts or are needing a joke Sprout themed present then check out these Sprout Truffles* from Very too.
You can opt for Collect+ which means you can pick up your Milk Chocolate Christmas Dinner Roulette for FREE from a local shop or pay £3.95 to have it delivered.