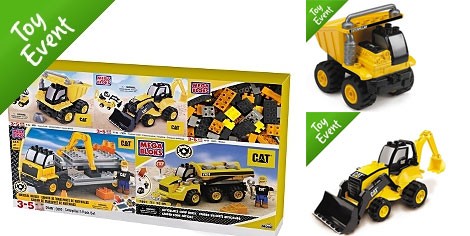 If you have a diggers and excavators fan in your household, then this Mega Bloks CAT Bumper Pack could be just the thing for them.
My youngest is JCB and CAT crazy. There isn't much he doesn't already have and short of a full-sized JCB or CAT digger of his own, I'm not sure he'd be overly excited.
However, if your little construction engineer has just started to put their fleet of diggers and lorries together, then this Mega Bloks CAT Bumper Pack would make a nice addition to their collection.
It's rrp is £25 and has been reduced online to £18.
Am HUKD bargain spotter has told us that they were further reduced to £13 in store, if you shop at Asda ordinarily, or have nearby, then it might be worth having a look on their real life toy shelves.
If you don't have an Asda near you, and driving to a far-flung one would cost you the £4.95 delivery charge in petrol, then you might as well stick with the virtual ones and order your Mega Bloks CAT Bumper Pack online (it'll save you having to go out in the snow too!).
Thanks to karenthemummy79 at HUKD