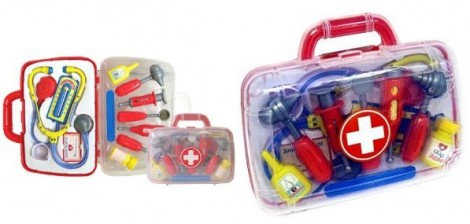 If you'd like your little one playing with a little more than dolls, kitchen sets and cars, this medical carrycase could set you on the road to having a doctor in the family. Or, of course, it could just be a playset and costs considerably less than years and years at uni!
This 19 x 24 cm durable plastic carry case contains everything a young doctor could possibly want. It's great for role play and dressing up with enough instruments for more than one to play, so this playset delivers great play value.
Each item is made from hard wearing plastic in chunky sizes and bright primary colours especially for small hands.
The set includes a blood pressure monitor, a thermometer that shows healthy to unhealthy temperatures a syringe plunger which moves up and down. There's also a name badge for the new young doctor, as well as a stethoscope, reflex hammer, otoscope for viewing ears, eye drop bottle, pill bottle with screw off lid, mirror for viewing throats and tonsils, and a tongue depressor.
The case has an easy open clasp and plenty room for any additional items, once the package inserts are removed.
Thanks to great-deals at HUKD