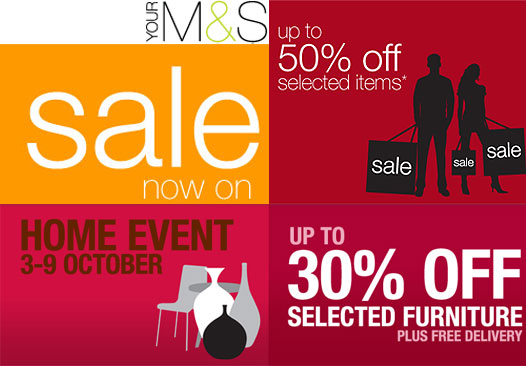 Marks and Spencer are having a huge clear out!
You can get up to 50% off clothing right across all their ranges for men, women and children.
They have taken up to 30% off selected furniture and 20% has been taken off ALL homeware items; hurrah!
Click HERE to go over to Marks and Spencer
There's THAT much included in this massive Marks and Sparks sale that I'm not sure where to begin...
Kid's clothes - there are 59 different underwear and sock items that have up to 50% off, including: plain school socks, brightly coloured socks, school tights, Thomas underpants, Hello Kitty knickers and vests.
The whole kid's sale sectioncovers everything from shoes, baby wear, older girls, younger girls, older boys, younger boys, accessories and nightwear.
The adult sale inclusions are just as comprehensive - lucky for my bank balance their sizes dont' go down small enough for me, otherwise I'd be sorely tempted to spend lots of money online at Marks and Spencer today.
However, I am in SERIOUS trouble when it comes to their Home Event sale - that's the 30% off selected furniture and 20% off all homeware - especially the bedding section; I LOVE new bedding and have more duvet sets than I need, but there's always room for just one more.
Please be aware that the Home Event Sale ENDS on 9 October, that's this coming Sunday.
Happy sale shopping!