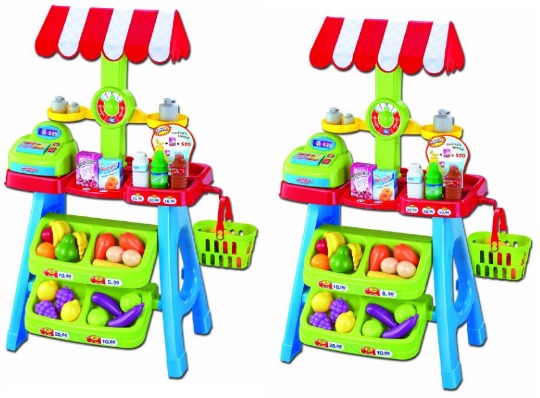 Reduced from £32.99, this looks a bit of a bargain.
Billed as suitable for ages 3+, this market stall comes complete with till, play money, shopping basket, weighing scales and a whole load of items you'd find in a real shop like fruit, vegetables, bottles and packets. Basically what you see in the picture is what you get.
It's measures 70 x 45.5 x 10.3 cm and has pretty decent reviews too, with one reviewer remarking:-
We bought this as a birthday present for a 2 year old in Dec 2013, and it was a huge success, together with a shopping trolley that we bought. Yes, the prices on the labels are in dollars, but that's irrelevant to our child. He loves the brightly coloured fruit and bottles. I must say that the fruit and bottles have been continually dropped, thrown, trod on etc and they remain intact so obviously very toddler proof!

My son also loves putting the basket handle in the crook of his arm just like mummy does when she goes to the supermarket. The till is a bit naff, and sticks every now and again - we tend to "borrow" older brother's cash register which is bigger and sturdier! All in all, a great toy at a good price to encourage role play and just to enjoy playing with your child.
So seems positive. The review does mention the prices on the labels are in dollars, so perhaps something to be aware of. I know it wouldn't have phased my daughter, she'd just have loved the bright colours and playing shop with mummy and her friends.
What do you think of this one?
Thanks to helendannette on HUKD!