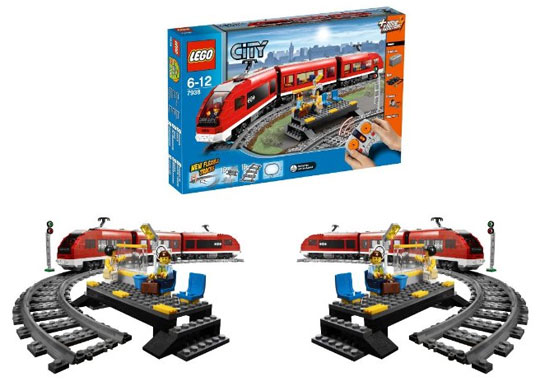 I've had my eye on this LEGO City Passenger Train for a few days now and the price seems nice and stable at £67.25 instead of a whopping £102.99 (what's the betting I've just put the kiss of death on that now!).
If you've got a LEGO fan who also has a bit of a thing for trains then, oh my goodness, they'll love you forever if you present them with their very own LEGO City Passenger Train set - it's got tons of fab' features that would even have me playing with it (and I couldn't care less about train sets, they just don't do it for me).
Right, are you ready?  Here's what you get in the LEGO City Passenger Train set box:
Three minifigures: a driver and two passengers (at least they won't have to stand - honestly, LEGO, whatever happened to realism?!)
One traffic light
One train station
The train engine, with an opening cockpit (I thought cockpits were just in planes and space rockets!)
Two passenger cars with removable roofs and space for 10 passengers
Sixteen curved track pieces; and
Sixteen flexible track pieces that you can leave straight or bend into any shape you want
The LEGO City Passenger Train is also remote controlled!  So you'll also get a: LEGO Power Functions battery box, train motor, infrared receiver and 4-channel, 7-speed, infrared remote control that can run up to 8 different trains at once (not sure how that works, but that's what the official blurb says.)
SO there you have it!  I think £67.25 is a great price for all of the above - I wouldn't pay £102.99 that's for sure, but almost half-price and as a big 'main present' present, definitely.
Happy train driving!