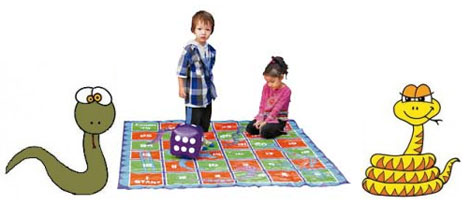 Argos are selling this large 'walk-on' Snakes and Ladders game where YOU are your own counter, for just £1.24 instead of £4.99.
Is there anyone who didn't play Snakes and Ladders as a child?
It was one of my most favourite games; it has more than you should reasonably expect from a simple board game - excitement, tension, mild peril, great rushes of adrenalin as you head ever closer to the snake and pure ELATION when you get past them or get to go up a ladder.
This Chad Valley Snakes and Ladders board measures 154cm x 154cm, YOU are your board piece and the dice is a big inflatable one - that alone is bound to make this a hit with the kids, that combined with there being no little counters to lose will make it a hit with us parents too.
Aside from the pure enjoyment to be gained from playing, it will help reinforce numbers one to six and develop counting skills in little ones just getting to grips with very early maths.
Thanks to deborahm at HUKD