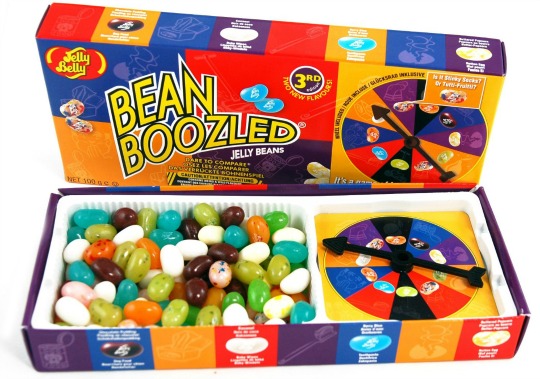 Last Christmas I bought a pack of Jelly Belly Bean Boozled for each of my boys. They cost £2.49 or something from John Lewis and I had got them as Stocking Fillers. I did not anticipate how much fun these little jelly beans are. They stole the show on Christmas Day. Don't see them as gross sweets but as a hilarious game for the whole family to play. The Jelly Belly Bean Boozled Spinner Game is normally £8-£9 but you can get it for just £6.60 including FREE delivery from Amazon Seller: Gabsmart.
What does the Jelly Belly Bean Boozled Spinner Game entail? It's a real simple idea but will have the whole family howling with laughter. There are a selection of different coloured jelly beans, for each colour there are two flavours. One is a nice flavour and one is absolutely disgusting. Each player takes a turn to spin the spinner and then has to run the risk of eating the colour it lands on.
The flavours include Stinky Socks, Tutti-Fruitti, Lawn Clippings, Lime, Rotten Egg, Buttered Popcorn, Toothpaste, Berry Blue, Vomit, Peach, Dog Food (the worst one of the lot!!), Chocolate Pudding, Booger, Juicy Pear, Baby Wipes and Coconut.
It would also make a fun Halloween Trick or Treat Game.
PS... you won't be able to get out of playing with the excuse that you are on a diet as each bean only contains 4 calories!