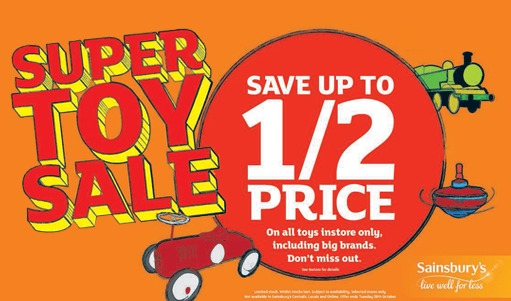 We have it on good authority that the Up to Half Price Toy Sale starts this week. We have nothing concrete about what day it starts but my buddy in Sainsbury's reckons it is Wednesday and that MOST items INSTORE will be half price. Not everything of course will have the full 50% off, and if we go by recent years, you are better off nipping to your biggest nearest Sainsbury's store. When sales like this are online, you are battling with a lot of internet traffic to get that must have item.
Our guess, and it's only a guess, that toys like Barbie, Nerf, Peppa Pig and Mega Bloks will have the full 50% off but more popular items like Disney Frozen will have the bare minimum off. We hope we are wrong, and I know it's hard to believe but sometimes we are.
Sainsbury's Toy Sale normally lasts a week, but all the toys go first so be aware of that. What I am hoping for is that for once they will include a console or at least console games in it. Their sale tends to be a lot better than the other supermarkets and we are looking forward to it. Keep your eyes peeled on the blog, as we will share anything else we find out about this toy event ASAP.