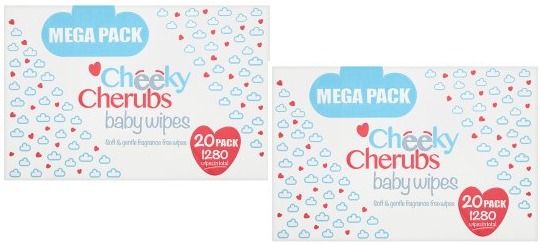 GLITCH ALERT! What if I told you that you may be able to get a box of Cheeky Cherubs baby wipes, containing a total of 1280 wipes for only £2.25 from your local Asda? Well, get down and try it! They are supposed to be £10 originally, then down to £4.50 in SOME stores. We have heard that in some Asda stores, that they are scanning at £2.25. It might happen at yours, but at £4.50 they are still a steal!
I have never heard of Cheeky Cherub Wipes. They are fragrance free, and dermalogically tested, also fine for vegans & vegetarians. You get 20 packets per box and in each packet you get 64 wipes. That is seriously good value!
I just HAVE to stock up myself. We use wipes a lot in this house. Let's face it with children, you get many sticky hands and grubby faces to clean, on a daily basis. Oh and not forgetting dirty bums, if you have a little nappy wearing baby, in your household.
If you are passing your local Asda today, then it is really worth popping in to see if you can bag this glitch of a box of Cheeky Cherub baby wipes for £2.25.
Thanks to Khio77 @ HUKD