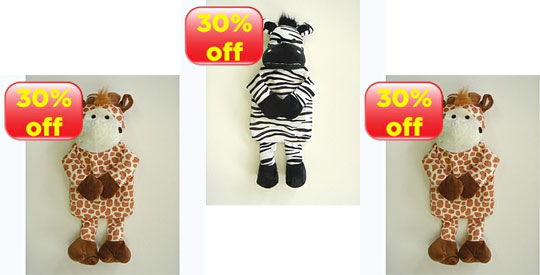 I know it feels like the wrong time of year to be buying hot water bottles but Asda are selling these cute Giraffe and Zebra hot water bottles for £3.50 each, rather than £5.
I say it feels like the wrong time of year but the weather has taken a distinct turn for the cooler and wetter today in my little part of the country, AND the temperature for tomorrow is predicted to be no higher than NINE DEGREES!
I'll be putting the heating back on at this rate, OR I could snag one of these Giraffe or Zebra hot water bottles and just cuddle up to that instead.  I'd choose the Giraffe and call him something like Gerald - it has to be a boys name because the horns are pointing inwards, which is how you can tell whether a giraffe is male or female: horns pointing in = male, horns pointing our = female.
I love giraffes, can you tell?! Of course, I have nothing against zebras at all and the zebra hot water bottle is just as cute as Gerald.
You can arrange to collect your Giraffe or Zebra hot water bottle for free from your local Asda - which is what I'd do, otherwise you'll need to pay an additional £2.95 to have them delivered to your home.
Thanks to lucerysmum at HUKD