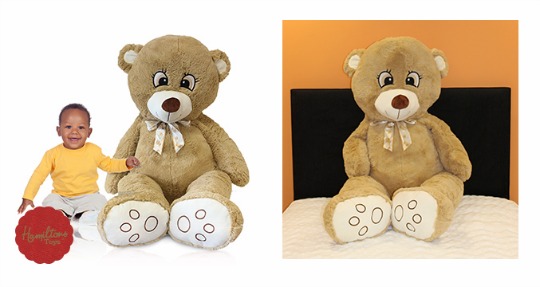 Imagine the look on your little one's faces when they see this huge Bailey Bear sitting under the Christmas tree! Who could resist this giant teddy bear, a lovely gift for a nursery, for a new baby or a play room, perfect for cuddling up to.
At Home Bargains right now Bailey Bear is just £39.99, a saving of £20 on the retail price of £59.99, I am sure you would be very popular if you bought this for a special someone this Christmas.
Bailey Bear the friendly giant, stands at an impressive 5ft 5", that's a whole lot of teddy bear for your money! He has soft floppy ears, big eyes, friendly smile, a large bow around his neck and a cute nose.
He is super soft and squishy, great for little ones to cuddle up to! At £39.99 he really is a great price, elsewhere teddy bear's of this size retail for at least £60.
There is no home delivery option on this item it is only available for Click and Collect via your local store. This option is free of charge.