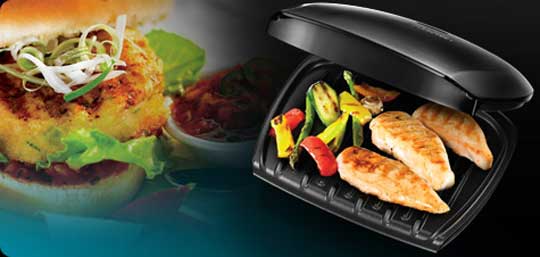 Amazon are offering this George Foreman family grill for a fabulous pre-order price - £19.99 instead of £39.99 - if you haven't discovered the joy that is cooking on a George Foreman grill, because you've been put off by their prices, then this is the perfect opportunity to discover culinary enlightenment!
I've written about George Foreman grills before, if you've read those posts you'll be aware that I'm somewhat of a devotee of the grills developed by the wonderfully enthusiastic ex-boxer.
There's a grill size to suit everyone and once you get your head around the fact they can do more than just grill chicken, you'll have opened up a world of healthy cooking possibilities.
Grilling your food on a George Foreman grill can reduce the fat content of your meal by 42%.  You can cook thick and thin food on them, thanks to the floating hinge mechanism, and the grill groves channel the released fat away into the separate drip tray.
Grilling time with a George Foreman grill is also quicker than using a conventional grill: with an ordinary grill you can only cook one side at time, George Foreman grills cook both sides at once and less time spent cooking means more time for things much more fun instead!
This particular George Foreman grill - the George Foreman 18870 - is available in black and will be in stock and dispatched as of Saturday 27 September; at this price I don't imagine it will stay in stock for long so if you've been considering adding a George Foreman grill to your kitchen equipment, now would be a good time to take the next step and buy one.
Thanks to mamboboy at HUKD