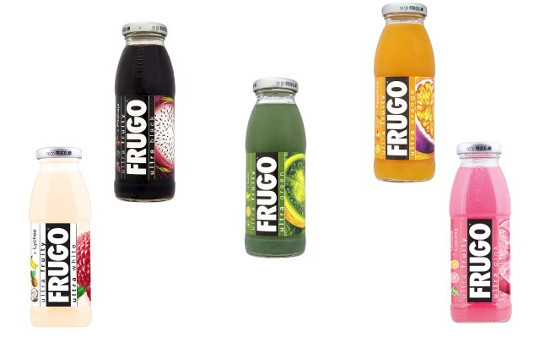 Tesco has a special offer in store and online for Frugo drinks, selling them for 3 for £1 instead of 50p each.
I haven't tried these, but judging by the excitement on the HUKD thread, I'm going to say they're pretty good!
It would be pretty expensive to keep buying these drinks for my kids, but it's always nice to have a supply for field trips of nursery or whatever. And with this offer you're essentially getting one free with every two you buy - a bonus if you buy them anyway.
So these are fruit drinks - sort of, as they have a minimum of 21% fruit in them, depending on flavour -  with no preservatives, made from concentrated fruit juices and fruit purees.  They are artificial preservative free, and come in glass bottle which can be recycled.
If you want a carbonated drink alternative, these non-fizzy fruit juice drinks could be just the thing.
Thanks to SunShyn at HUKD