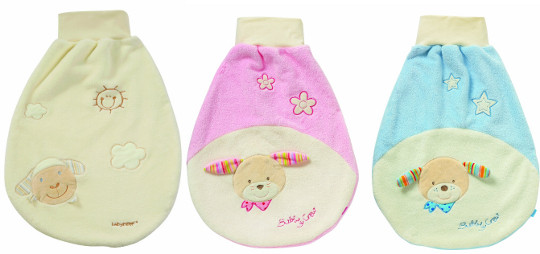 There's a huge saving on the Fehn Baby Love Sheep Baby Romper which is normally £19.99 but is now reduced to £6.95 - this is a 65% saving, but the blue one has 79% off and the pink one 72%.
Baby Love is apparently the fluffiest of the Baby Fehn range. It features Paul the Sheep and Thelma the Hare in gentle, sleepy time colours and a gentle muted colour scheme.
The pink and blue ones are slightly less... muted, but are pretty too.
The bag is suitable from birth and is fifty centimetres long. It is also machine washable.
I guess there's not a huge much else to say about these, we all know what baby sleeping bags look like and are for. This is just a really cute, slightly unusual and seemingly good quality version, and it is a really, really good price.  It's a pity there aren't any reviews on it though, it would be great to know what people thought of it!