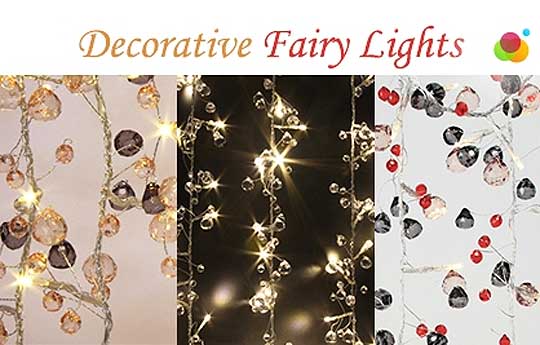 If you're after some pretty fairy lights that are slightly different and a little 'more' than bog-standard fairy lights, then look no further - LyncMeUp are selling sets of really pretty fairy lights with crystals for £16, the usual retail price is £29.99.
When it comes to fairy lighting I can be a bit of a purist but, that said, I really am rather smitten by these fairy lights with crystals; they're just so pretty without looking naff and I really, really want some.
So my next step is which ones I'd choose, as there are three colours to choose from:
Cabana Chic (red, dark purple and light pink)
Coco Chic (dark purple and light pink); or
Crystal Chic (pure white)
They all cost the same and, at the moment, I think it's going to be a toss up between Coco Chic and Crystal Chic <----- that's the purist coming out in me again!
The other choice to be made is whether you want your fairy lights to be battery or mains powered - the battery powered lights cost £16 and have 27 lights on the 'string', the mains powered option will cost you £25 (they're usually £59.99!)  and give you 50 lights on the 'string'.
You've got until 11.59pm on Monday to make up your mind as to which colour and power format you'd like, and then until December 6 to actually place your order. Postage and packaging will cost you an additional £4.99 and delivery should take between five and seven days, although they do ask that you allow 14.
Happy fairy lighting!