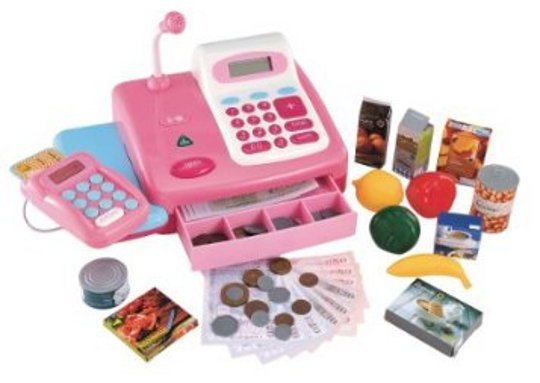 Amazon have 50% off the Early Learning Centre Electronic Cash Register and Scanner, which normally sells at £22 but is now reduced to £11. It's the same price at ELC, but you'll have to pay postage too.
According to the blurb, this cash register is the perfect inspiration for playing shops, pretending to be the customer or shopkeeper and enjoying real-world imaginative play.
This version has a beeping scanner (for which you need 3 AAA batteries), a chip and pin machine and a working microphone with which to drive the family crazy make important announcements.
The Electronic Cash Register and Scanner comes with 12 pieces of food, play paper money and coins and a play credit card, card reader and of course, the till and microphone.
Reviews on it are generally positive, though some complain that the drawer jumps out too enthusiastically.
One reviewer (at ELC) says, "We've used it's calculation capabilities to teach some basic adding and subtracting whilst she plays which is great too. The play money resembles real notes and coins which is helpful. The scanner generates random numbers which won't teach value (when it can cost £7000 or £7 for the same item) but it is good fun."
She felt it was money well spent.
Thanks to retail_therapy at HUKD