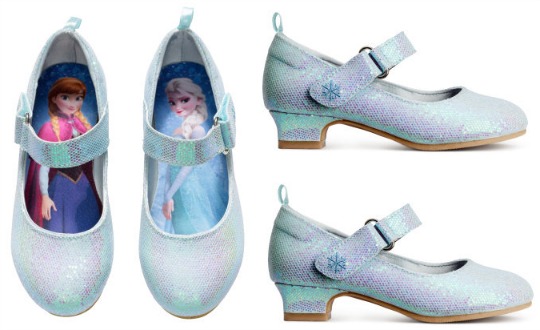 Wow! Wow! Wow! I used to want red sparkly shoes like Dorothy from The Wizard of Oz but not anymore. Head over to H&M and check out the beauty that is the Disney Frozen Heeled Shoes. You can keep your Lelli Kellys because these babies outshine any pair of shoes. Buy these for your daughter and you will go down in history. They cost just £14.99 and you can get FREE delivery by entering the H&M offer code 2773 at the checkout.
H&M really do pull out the stops when it comes to childrenswear. They do cool like no other High Street retailer but they don't kill us with the price tag.
For example these Disney Frozen Heeled Shoes could easily sell for around the £20 mark, but no H&M have them for just under £15. They arent just icy blue glitter on the outside but lined with satin and they have the coolest insoles around. The insoles have Anna and Elsa on each one.
They are available in sizes 9, 10, 11, 11.5, 12.5, 13, 1 and 1.5 only. The only pitfall with a lot of H&M stock is that once it sells they rarely get it in stock again. Fashion is fast moving so I guess that's why.
Remember, to use that code to at the checkout to get FREE delivery!