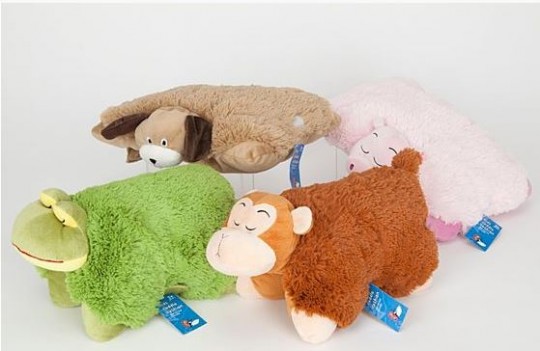 ASDA has taken £2 off their Cuddle Cushion range reducing them from £5 to £3. Standard delivery within 3 to 5 days is an additional £2.95, but click and collect at your local ASDA is free.
Similar, I'm thinking, to pillow pets, the Asda Cuddle Cushion is a cuddle toy and cushion, perfect for taking on trips, largely because it saves you schlepping your bedroom pillows around with you, getting them dirty and ruined. We're that kind of camper, really. We tend to take a duvet and pillows from the bed into the tent. It just provides a much better night's sleep than our double bed sleeping bag!
The Cuddle Cushion doubles as a toy and cushion, so it keeps little ones busy and is practical too. Dual purpose. Love it.
There are four styles available, a frog, dog, monkey and something pink that could be a bear or a sheep, I can't tell from the picture. Your order only has one pillow, and it's luck of the draw which one you're going to get.
Thanks to wishihadadonkey at HUKD