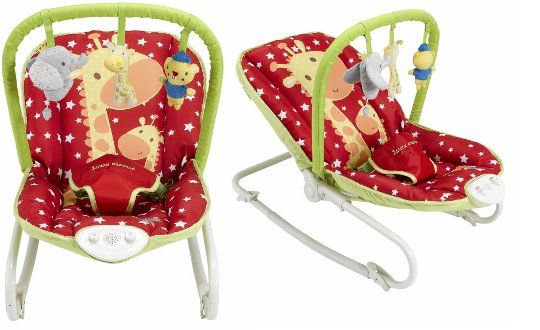 One of the many items in the Mothercare sale is a Little Circus Rocker, a bright red and funky green bouncy chair, which is on sale for £49.99 instead of £69.99.
The primary thing about this rocker, and what caught my eye, is the bright colours. Unlike the plain, beige or pastel, soft and stereotyped colours of most baby chairs, bouncers and rockers, this is really bright and bold and colourful. I love it!
It has a soothing vibration and rocking motion, and an adjustable toy bar that can be removed if and when you no longer want it. The headrest is also adjustable for baby's comfort.
The reclining seat fixes in two positions so that baby can sit up or lie back and the removable fleece blanket can be cleaned. There's also lullabies to listen to while the little ones gently rock.
The Mothercare Little Circus Rocker is suitable from birth to around 6 months and can take a maximum weight of 18kg or 40lbs.