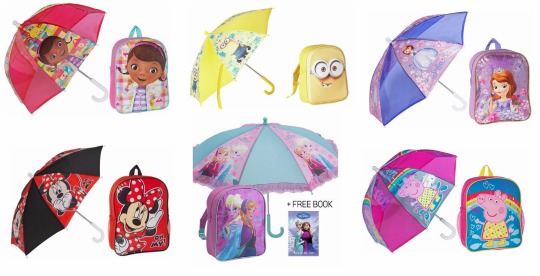 What's the weather like for you? It's been chucking it down here and I was looking for new brollys for the kids when I spotted these at Argos. They have Children's Backpack and Umbrella Sets from only £7.99, and seeing as just one of those items on their own would normally cost around that price I think these sets are great value for money.
There are several different sets to choose from, but apart from the Minions one which is fairly gender neutral all the rest are aimed at girls. For £7.99 you can choose from  Doc McStuffins, Minnie Mouse, or Sofia The First. For £9.99 there a different Minnie Mouse design, and a choice of two Frozen ones, one of which includes a free book as well!.
Then there's the Minions backpack and umbrella set for £10.99, and two different Peppa Pig sets at £11.99 or £12.99.
Stock levels vary as some of these items have been sold by Argos for a long time so are less widely available, whilst others are fairly new and are much easier to get hold of.
As always with Argos you can reserve and collect for free, or home delivery adds a further £3.95 to your order.