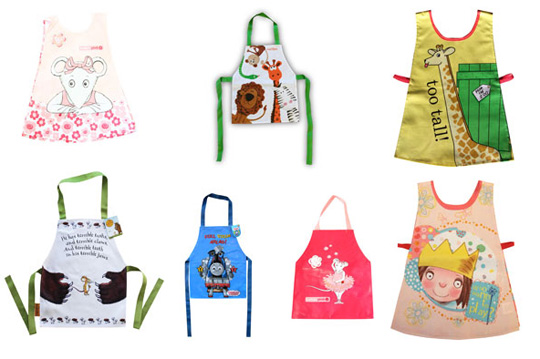 Oh I do like Dunelm Mill! I could happily spend hours and hours and hours mooching around that place.  I really like these kid's character aprons and tabards that they've got on sale too - prices for tabards are £3.99 and the aprons are £3.19 - Elmer, the Gruffalo, Angelina Ballerina, they're all there!
I'm much more of an apron, rather than a tabard, person - I think it's just because I associate tabards with painting at infants school and I can paint without wearing a tabard now (or a man's shirt worn backwards, for that matter!) but I still wear an apron in the kitchen when I'm cooking and baking (which I like to do, a lot!).
Which one would I choose if they had grown up versions?  Well, it would have to be the Gurffalo one and if there was a Very Hungry Caterpillar apron, rather than a tabard, then that one too.  There are lots of other characters to choose from though - Thomas is there, as well as the Little Princess, so something for everyone.
You can reserve your apron(s) online to collect in-store or you can pay some additional pounds and have them delivered to you at home - personally, I'd arrange to collect them: if you order before midday they'll be ready for you after 3pm; marvellous - just try not to buy anything else that catches your eye when you pop in to get your apron(s)!
Thanks to evesmum at HUKD