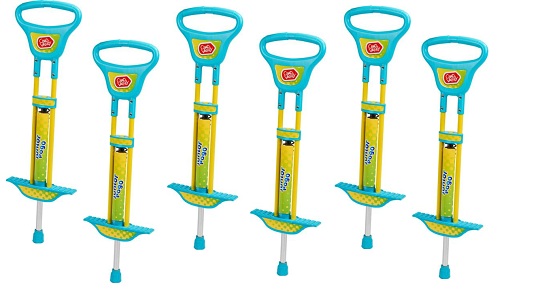 Chad Valley Pogo Sticks are reduced from £16.99 to £14.99 at Argos right now, giving you a 10% saving on the RRP. However, they're also part of the 2 for £15 offer range, so for that 1p extra you can get two pogo sticks for £15.
So what will you do with two pogo sticks? Well, according to some of the reviewers they loved these so much they've gone back to buy more for other children or grandchildren – and they've done so at full price, so being able to get a second one for free, essentially – or a penny more, if you want to be pedantic about it! – is a bargain, whether you're keeping it for a backup, for another child, or for a friend's birthday party.
Pogo sticks are apparently great for improving your balance, although the whole balance and falling thing scares the life out of me… that's why children are fearless, I guess.
These are supplied fully assembled and will apparently be a little stiff at first, but get better with use.  They are suited to a maximum user weight of 50kg, and not suited for children under 3 years of age.