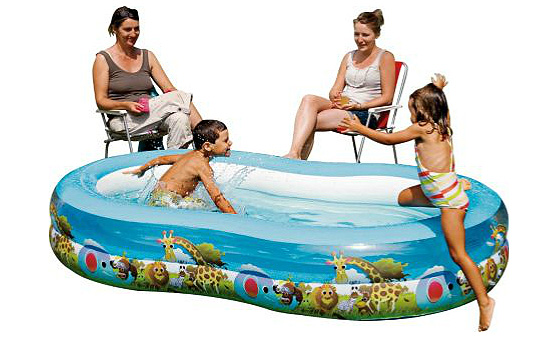 Argos are selling this Chad Valley Animal Paddling Pool for half price - £17.49 rather than £34.99.
I wonder if your childhood memories of paddling pools are the same as mine?
A few of your little friends have come round to play, its hot (in my memory, the summers were always hot and dry) and playing in the paddling pool is the order of the day! You're all very excited as your mum or dad blow up the little paddling pool and the anticipation builds as you impatiently wait and watch the water level rise.
You know the water's going to be freeeeezing but you don't care - it's PADDLING POOL TIME!!
The next few hours are spent hop, skipping and jumping in and out of the pool and before long the water has lots of little bits of grass in it and the odd fly and little bug thing trying unsuccessfully to go for a bit of a swim.
Your little friends eventually go home, you're wrapped up in a towel and you have THE coldest and most wrinkled feet in the world; all in all a most successful childhood summer Sunday spent in the garden!
If your local Argos store doesn't have any stock then you'll need to look further afield - by far the easiest way to do this is is to engage the services of www.icheckstock.co.uk.
Thanks to letschat at HUKD