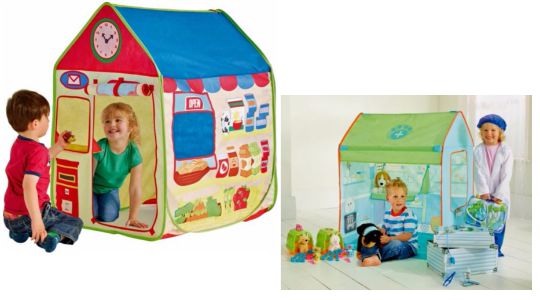 Kids love play tents/houses and they are ideal for when the weather is not so good. If you do happen to get sunshine, then it's a bonus and these can be used anywhere really. Argos have reduced the Chad Valley 2-in-1 Post Office and Vet Play Tents from £19.99 to just £9.99. We reckon these will sell out at this price, so you may wish to get your skates on.
Both the Chad Valley 2-in-1 Post Office and the Vet Play Tents have been rated highly on the Argos site. The Vet Play Tent scored highest with 4.8 stars.
They are pop-up Play Tents so are easy to put up and fold flat when not in use. The Vet one comes with bandages, plasters and vets clipboard. I think that makes it a very good buy indeed.
Prices change all the time at Argos, we don't know why, but just be aware of that if you want to wait to purchase.
You can Reserve and Collect the Chad Valley 2-in-1 Post Office or Vet Play Tent for FREE from an Argos near you or pay £3.95 to have it delivered to your front door.