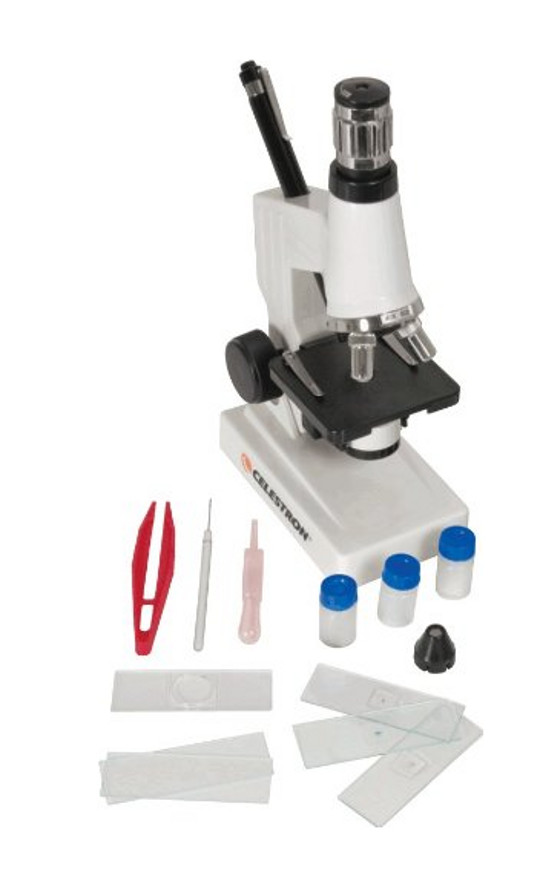 Asda have a Celestron Microscope Starter Kit on offer at £14 instead of £27, giving you a £13 saving and a summer full of entertained kids, if memory of the microscope we had as kids serves.  Interestingly, the same kit at Amazon is £50!
Unless we look hard enough, we can easily miss the tiny creatures and details that surround us and often play an important in our daily lives. For example, the crystals that make up the rocks that form the ground beneath out feet and in which the foundations of our homes stand, or the fine hairs on a honey bee that can help to carry pollen in order to help pollinate our flowers and essential food crops. I love this introduction of the product. It's so poetic!
The Celestron Starter Microscope Kit is designed as a perfect starter kit for those interested in exploring, the high-quality optical microscope comes with all you need to start your own miniature adventure, including 3 prepared glass slides, 2 blank glass slides, 1 hole (well) slide, light diffuser, needle probe, eye dropper and tweezers. Providing high power viewing from 40x to 600x magnification through its 10x-20x zoom eyepiece and 4x, 15x and 30x objective lenses, this traditional microscope is suited for the detailed viewing of a range of specimens from yeasts and mould to cultures, plants and animal parts, fibres, bacteria and more! There are pre-assembled slides with a honeybee wing, shrimp, and rock pieces and also 2 blank slides for putting your own findings.
The set has a 10 year Parts Guarantee.
Thanks to wishihadadonkey at HUKD