Buyagift Discount Code: 20% Off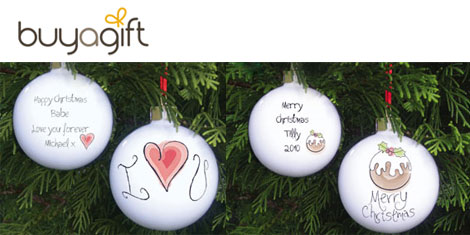 Here's a buyagift discount code for you to use to get 20% off up until 21 November 2010.
Discount Code: VC20
Discount: 20% OFF
Applies to: everything
Expires: 21 November 2010
Clich HERE to go on over to BuyAGift

You can't hide from it anymore!
There are only 38 days left until Christmas! You have to face it at some point, so why not take advantage of online discounts, spare yourself the trauma of the highstreet save yourself some cash along the way?
The last few months of the year are dead expensive for me – October is jammed up with family birthdays,  the Teenagers' birthdays are tomorrow and then it's a short five weeks to Crimbo!
So I'm constantly in pressie buying mode for the last three months of the year, and when buyagfit discount codes pop up, I use them!
I'm a sucker for anything Christmassy and personalised Christmas baubles really do it for me - they're something special to keep that will remind the person you gave one to just how much you care for them, every Christmas time.
I've ordered a few and am sitting here feeling quite smug that my buyagift dicount code has just saved me 20%, and rejoicing in the fact I didn't have to go outside and brave the cold to get them.
There's something here for everyone across various price ranges and don't forget to add the VC20 buyagift discount code to get the 20% taken off your basket!