Brio Rock On Rocking Horse £16.99 @ The Works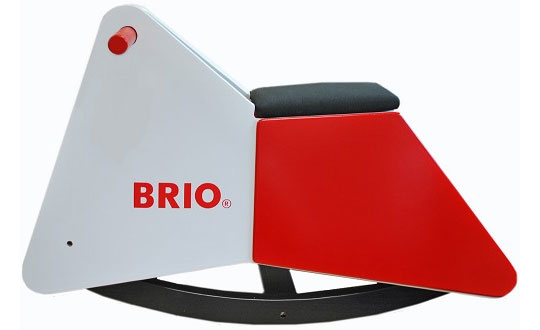 If you trot on over to The Works, you'll be able to lead away a Brio Rock On rocking horse for £16.99, rather than its usual full-priced £49.99 (enter code 30DEAL into the promotion code box in the basket to drop the price to £16.99).
If you are a fan of the more abstract type of toy, then this Brio Rock On rocking horse may well appeal to you; if you want something with eyes, a mane, legs and a tail,  and also makes realistic horsey noises then move along because it will most definitely not be for you.
I rather like it, it's a bit quirky and different and I'm all for that sometimes.  I know I absolutely wouldn't part with £49.99 for it but then my horse prices are a bit out of touch - I'm not unused to good three-day event horses costing in excess of £50,000 but nearly fell off my chair when I overheard Tim Stockdale (one of the most respected horseman in the country, in case you weren't sure) talking prices in excess of HALF A MILLION for qualified Olympic horses!
Much as I love horses, whether they be top class Olympic qualifiers or Brio Rock On rocking horses, I won't be paying £500k or £49.99 for either!  But £16.99 plus £2.99, making it £19.98 all in, I can cope with.
The seat of this Brio Rock On rocking horse is soft and padded and is suitable for young abstract riders aged 12 months or over.
Thanks to goonertillidie at HUKD