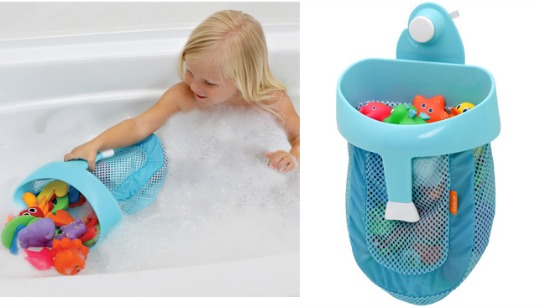 The Brica Super Scoop Bath Toy Organiser is the way to stop the smelly, mildew-ridden, mouldy toys. It happens all the time especially with bath mitts, etc.  They go rotten. Get this toy storage saviour for £4, including FREE delivery from Jojo Maman Bebe. It's a really good buy if you have small children.
The Brica Super Scoop Toy Organiser is easy for kids to tidy up after themselves in the bath, in a really fun way. It's never to young to instil such habits. It's just a matter of scooping up toys into the organiser and they mesh fabric allows for water to drain and for air to dry the toys.
It has push lock suckers on so it can stick to tiles, and can stay in a convenient spot for future use. Bath time is such an important bonding time for parents and little ones. This usually involves playing with toys of some variety. Having adequate storage is fab, so that toys don't get spoiled by mildew and so that you're not tripping over them every time you need a shower or bath.