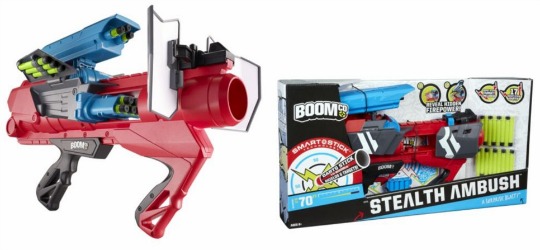 This is another great little bargain from the Tesco Direct Toy Clearance with a huge 65% discount, and it's selling pretty quickly! The BOOMco Stealth Ambush Blaster Gun was £20 but has been reduced right down to just £7 and stocks are limited so be quick of you want to get this one.
From what I can see it looks similar to a Nerf gun in that it fires darts, and this one is designed to fire them in super quick succession. You get a target, an 8 dart clip, push-button transforming removable shields and 17 Smart Stick darts that stick to your target.
Although I'm not keen on dart guns myself, I can see why they appeal to children and grown ups alike, and at least this one comes with sticky darts and a target rather than encouraging all out battles between kids.
At this price it's a good present to put away for parties or for Christmas, and with the free click and collect from any Tesco store £7 is all you need to pay.
Thanks to VW1972