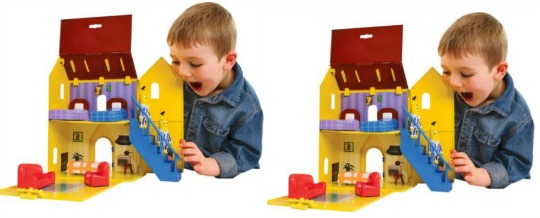 Argos can't seem to quite make up their minds with this one! It's been at £24.99, then down to £5.99 a couple of times and is currently available at £6.24.
As above, we've brought you this a few times at £5.99 but for the extra 25p, it may be worth grabbing now if you missed out before.
I ordered a couple the last time they were on offer for gifts and they were both a big hit with the recipients. It includes 2 opening beds, sofa, chair, kitchen table, stools and an opening door. The staircase plays the theme tune, which is quite sweet and loved by kids, not sure the same could be said for the parents but that's often the way.
It requires 2 AAA batteries (for the musical staircase) and these aren't included, so just something to be aware of if you want it to be ready to go straight from the box.
Store collection is free if you have some local, otherwise it's check your postcode to see if it's available for home delivery but that will cost an additional £3.95.