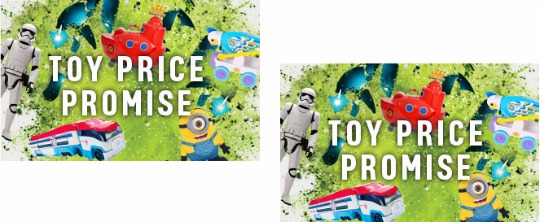 With retailers competing like mad for our hard-earned cash, prices can change at the drop of a hat. There is nothing more frustrating than buying something and then immediately seeing it cheaper elsewhere. At Christmas time, we are all buying toys and Argos have recognised this annoying problem with prices and so, have launched the Toy Price Promise. Some of you have contacted us to say you have been taking photos of the Shelf Edge Labels in Sainsbury's, meaning you could get certain toys for the Sainsbury's Sale price using Argos Price Promise.
What is the Argos Toy Price Promise? Basically if you buy a toy either online, in store or over the telephone then see it cheaper elsewhere, their new scheme promises to refund the difference. Sounds great right?
There are a few stipulations: Prices are compared to those in a competitor's store, website or on the telephone. The price found must be on the same day as when you got your Argos toy item.
Products must match entirely to be eligible and must be in stock at the competitor.
You have up to 14 days to put a price difference claim in for your toy purchase. You must provide evidence of the product being cheaper elsewhere along with your proof of purchase from Argos. The dates must be the same on both.
If you have ordered and paid on the Argos site then you must email them with your price difference with your query.
With the likes of Amazon* price matching their competitors, we'll be interested to see how this one works.
If you are shopping at Argos soon, don't forget to check out their Toy Exchange in partnership with Barnardo's too, you could bag a £5 voucher and help the charity in the process.
Thanks to goonertilidie!