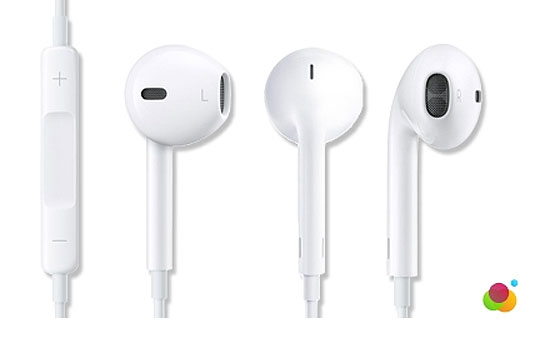 I've loved all three of the iPhones I've had but I'll be frank with you, Apple's headphones that came with them, up to now, have been RUBBISH!
They sit shallow in your ears and let in a lot of external noise and, most annoying of all, the little grey rubber rings that sit on the outside edge of each speaker always come off, and once they have you'll very soon be looking to buy a new pair because they've become too uncomfortable to wear.
The thing is, what's MORE uncomfortable than that is the hefty £25 price tag that comes attached to new iPhone headphones, complete with hands-free mic' and iTunes remote.
I've just upgraded to an iPhone 5 and, OH MY WORD, even if there are a few flaws (don't even talk to me about LTE/4G connectivity at the moment!) the new earPod headphones are a true gift from the gods!
There aren't any silly rubber bits, they sit inside your ears and the sound quality is a million times better.  They're still £25 if you buy them from Apple though. OR you can buy these, which are exactly the same in every way other than (I think) not being genuine Apple earPods, for £5.
I'm going to buy a couple of sets - my husband tends to be heavy on iPhone headphones - to keep as a spares.  And even with postage and packaging, per set, being an additional £3.99 - which I think is a bit steep to be frank! - I'll still only be spending £17.98 instead of £50!
The Apple earPod headphones are compatible with all of the following: • iPhone 5 • iPhone 4S •iPhone 4 • iPhone 3GS • iPod touch 5th generation • iPod touch 4th generation • iPod touch 3rd generation • iPod touch 2nd generation • iPod classic 120GB, 160GB (2009) • iPod nano 7th generation • iPod nano 6th generation • iPod nano 5th generation (video camera) • iPod nano 4th generation (video) • iPod shuffle 4th generation • iPad • iPad 2 • iPad 3 • iPad 4 • iPad mini (just in case you were wondering) and the deal is valid until 11.59pm this coming Sunday.
All hail the Apple earPods!