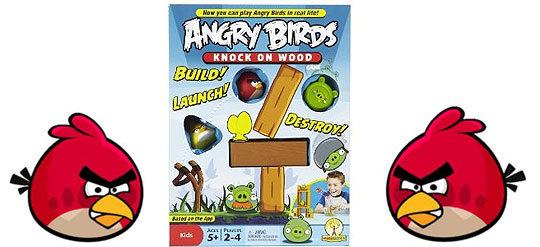 I hold my youngest son fully responsible for the hours of my life I've wasted playing Angry Birds on my phone.  He introduced me to it and still plays it better than I do, so I think a bit of 'pay back' is in order.
I'm going to buy this Angry Birds board game, practise playing until I'm awesome, then give it to him and challenge him to an Angry Birds play-off! Hey, all's fair in love and Angry Birds!
It's funny what captures the public app' imagination - who'd have known that a game involving egg stealing pigs and some birds hell-bent on revenge would become the sensation that it is!
I've played 'real life' Angry Birds with Edward - I bought him the little plush Angry Bird toys, including some pigs who we lined up and then threw birds at.
The Angry Birds board game is just a natural progression on from that and looks like lots of fun for Angry Birds fans; included in the set are the following bits and pieces:
Three Angry Birds
Green pigs
One slingshot-style launcher
Structure pieces and
Mission cards
Now some Angry Birds fans say this Angry Birds board game isn't that great, whereas others absolutely wax lyrical about it - the common theme throughout though, is that the kids LOVE IT; Amazon are currently selling it for £12.73 rather than £20.
Thanks to Josh94 at HUKD