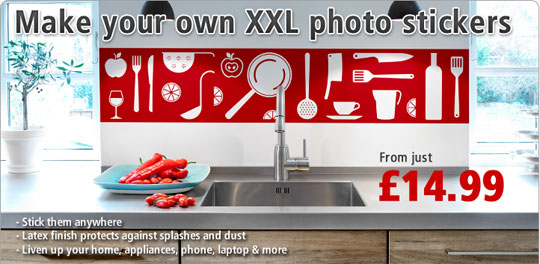 PosterXXL print your photos on things and they've just launched a new product - photo stickers.  To celebrate, they've released a voucher code for 50% off any size and quantity of photo stickers until 11.59pm tomorrow.
Click HERE to take a look at the photo stickers
Discount: 50%
Promotion Code: STICKER50
Applies to: Photo stickers
Expires: 11.59pm Wednesday 29 August
I love PhotoXXL - I've used them lots before for printing canvasses and can confidently vouch for their super service and the top notch quality of their products, and I'm really rather intrigued by their new photo stickers.
They're printed on adhesive film and can be stuck to any smooth surface!  Kid's lunch boxes, windows, fridge doors, mirrors, laptop tops - if it's smooth you can stick a photo sticker on it.
The process is very simple: choose a photo/piece of artwork or design that's been scanned into your computer and select the size and format you want your sticker to be; upload your image to the PosterXXL website (if your resolution isn't good enough, they'll tell you), enter STICKER50 (it's not case sensitive, I tried it both ways) into the promotion code box, tell them where you your photo sticker sent to and PAY.
Delivery is £5.99 (PosterXXL are based in Germany, so it's distance rather than weight that bumps this up) and you need to allow eight working days for your photo stickers to be delivered.
The 'downside' of deals like this (if you can call it that) is deciding in time, before the discount code runs out, which photos, images or designs to use!
Happy photo sticking!