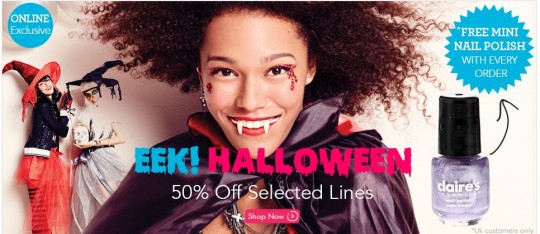 Claire's Accessories is back again this week with another offer - £5 off a £25 spend as well as a free nailpolish with every order.
Whether it's for Halloween fancy dress or Christmas stockings or gifts or your child's friend's Christmas presents, even the little gifts add up!
Claire's still has up to 75% off a whole host of items, and when you spend over £25, they'll give you a £5 voucher off your next order. Shipping is free over £19.99 so you'll get that included if you're aiming for the offer.
I can't find more information on this at the moment, but apparently you also receive a free nail polish with each order.
If you look around the 75% off sale, with over 530 item reduced to mainly under £10, with prices starting from £1, you could take care of a large portion of Christmas with this sale and offer. Or even better, sort out your Halloween fancy dress, and use the £5 towards your Christmas purchases.