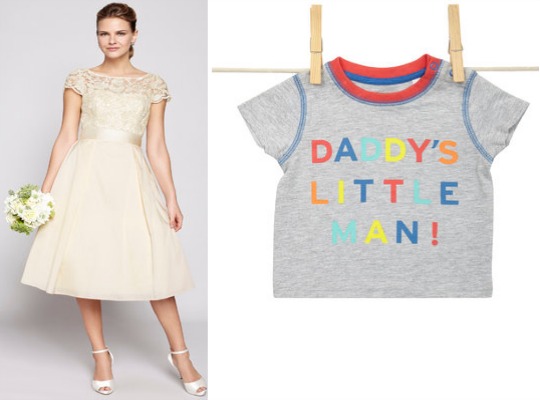 BHS have an astounding offer on today....20% off of EVERYTHING. They have had similar events in the past but there was so many exclusions that it got my goat. This time, you can get a discounted babygrow, teapot or even a wedding dress. To get your discount use the promo code EXCLUSIVE at the checkout and your 20% will be deducted. Spot a sale item and you are in luck as you can get another 20% off of that too!
Wow! I am seriously impressed with this deal. Let's start with Girls' Clothes, here's what you can get: Girls' Multi Stripe Dress* was from £12 now from £7.64 and this Girls' Bright Multi Print Cami* was from £10 now from only £8.
The Boys': Baby Boys Holly Willoughby Grey Chinos* was from £10 now from £8, Boys' Two Pack Stripe T-Shirts* was from £10 now from £8 and Boys' Spider-Man T-shirt* was £8 now from £6.40.
Getting married? This Ivory Florence Wedding Dress* is ever so pretty and is a bargain at £150. Use the promo code and get it for just £120!
Collect from store is FREE.