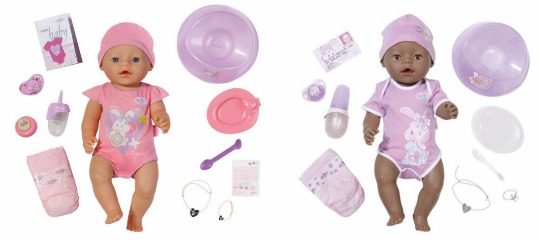 I have lost count of the amount of times my daughter has made me rewind the Baby Born Interactive Doll advert on the television. She watches it over and over again and as with several Baby Annabell doll's she has put this Baby Born doll on her Christmas list. I was pleased to see that over at Tesco Direct and Amazon right now they have the Baby Born Interactive Doll for just £30, that's a saving of £20 off of the retail price of £50.
The Baby Born Interactive Doll has lots of life like features, my 3 year old loves the idea of being able to actually feed a baby doll and change it. Well this doll actually eats food, you get given a sachet of baby food included, it drinks real water, cries real tears, opens and closes her eyes, sits on the potty and even wee's!
Another great feature of this doll is the fact that it is fully bathable. My little one is obsessed with taking her babies everywhere with her, they even had to swim in the sea with her in the Summer so for us this doll sounds perfect! At Tesco they also have the Baby Born Interactive Ethnic Doll* at £30 too. Both dolls include 10 accessories including a nappy, dummy, vest, hat, spoon, baby food and plate.
If you have Tesco Clubcard vouchers then don't forget you can double up on these dolls by using the Clubcard Boost* which means you only have to spend £15, bargain hey!
Home delivery starts from £3 at Tesco Direct or you can Click and Collect to your local store for FREE. Home delivery via Amazon is FREE also.
Thanks to Saffy81!