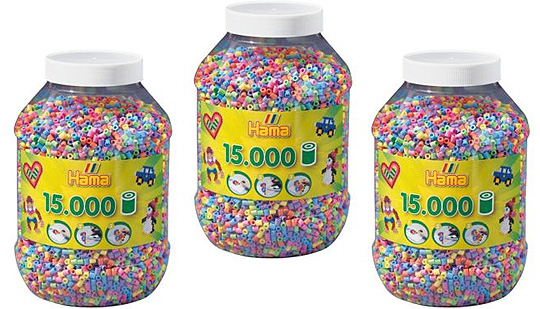 Argos are selling 15,000 Hama beads in a jar for £13.99 - they are usually £17.99 and they're throwing in free delivery too, which will take up to four days.
The whole Hama bead craze has come too late for me to know much about it; I do know that if my daughter was 10 years younger she would have been Hama bead MAD and there'd be hundred and thousands of Hama bead creations all around the house (not to mention lots of loose ones hiding under the sofas and between the cushions!).
I can't help but hear MC Hammer when I write about Hama beads - the mental scenario that popped into my head the last time I wrote about them is too good not to say it again:
I mean, what does someone who loves Hama beads ask other people to find out whether they do too? "Hi, do you Hama?"   And if you decide you're going to make something with your Hama beads do you jump up and declare, "STOP! Hama time!" ..?
That amused me greatly when I wrote it back in April last year, and it's amused me again now (it's the small things...).  Anyway, back to this Hama beads deal...
15,000 of the tiny beads - which you make patterns and pictures with, then iron, to permanently join the beads together (in case you've not come across Hama beads before) - come packed into a jar and are in various pastel shades; I really can't tell you much more than that!
Remember, you can't pop into your local Argos to pick up your jar of 15,000 Hama beads - they're not available for in-store collection, but at least you don't have to pay anything extra for delivery...there's always a bright side.
Thanks to pmcdougall at HUKD