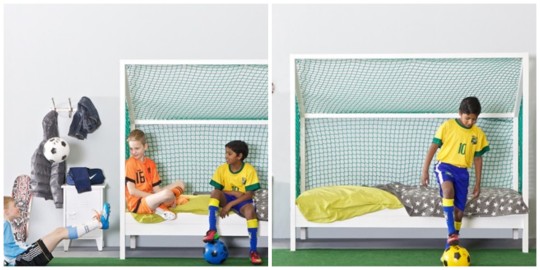 If you've got a serious football fanatic in your house, you're going to want to see this. Either that, or you're going to want to make sure that your football crazy kid NEVER claps eyes on it. There - don't say I didn't warn you!
What's not to love about a bed that resembles a football goal? I'm forever telling my budding future England star that I reckon he eats, sleeps and breathes football - and with this bed he could definitely nail the sleeping football part.
Can you imagine what a fabulous centrepiece this football bed would make in a sporting-themed bedroom? I am actually contemplating making it my son's Christmas pressie from various extended family members - partly cos I would LOVE to see his face if he woke up on Christmas morning to find this waiting for him. He'd be the envy of all his mates, for sure.
Over the top? Maybe. But c'mon, no kid is ever going to forget having a bed like this. It's the stuff little footie fans' dreams are made of - quite literally!
The goal-style bed frame features green netting over the top and back, and it's made from pine and crafted in Holland. Mainland UK delivery is free, too, and here's how you can get a whopping £100 off the normal price of £345, bringing it down to £245 delivered.
Code: PLAYFOOTIE
Offer: Save £100 on kids football bed
Expires: 31/10/2015 (or whilst stocks last)

To use this voucher code to get £100 off this fabulous kids football bed, just click the link above to check it out, then add the item to your basket and type the voucher code PLAYFOOTIE into the relevant box when prompted to do so at the basket checkout stage. Easy!
Don't forget to check out the vouchers section of our site, too, where you'll find this and loads of other lovely voucher codes.