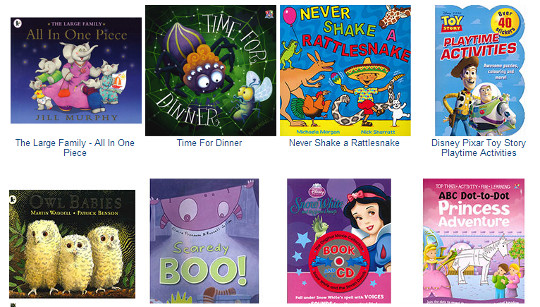 There's an offer on at The Works: for £10 you get 10 books and with the code below you'll also get free delivery.
Buy in bulk and save on delivery too*
Discount: Free Shipping
Expires: 2 April
Discount Code: FSDMAR
We've spent a lot of time in Australia recently, due to a member's illness. Doing the flight  with 2 little ones is hair raising at times but I feel like I've become something of a professional at keeping especially a three year old entertained on cramped and boring transport. Our Trunki has become my Mary Poppins bag of tricks and one of the winning things has been activity books, so you can see why this offer appeals to me hugely. Considering each of these books is normally almost £4 and if you buy them abroad, a lot more.
There are 61 books to choose from, and if you're looking for ten there are probably millions of combinations to choose from.
I've gone for a selection of activity books, the Dora Explorer paint book - those are really excellent - and a couple of story books.
What would keep your little one entertained?