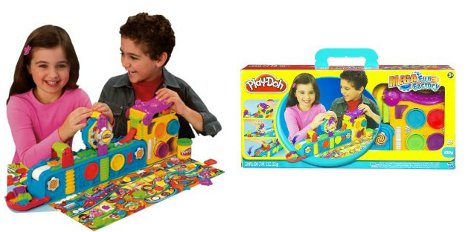 The Play-Doh Fun Factory Playspace is £9.99  at Argos, which is a fantastic price as it's currently £18.50 at Amazon, £22.49 at Sainsbury's and £28.95 at Play.com.
I missed the whole Play-Doh thing as a child, and my daughter is really a bit young for it – although she did manage to smoosh some into the carpet at a friend's house.  But anyway, I guess there's a reason these are for children aged 3 years and over.
This particular Fun Factory Playspace has a moving conveyor belt set that lets you stamp out play toys and food. It can store up to six pots of Play-Doh, although it only comes with four 3oz pots. It also comes with 15 moulds and a playmat and requires 2xC batteries, which are not included.
There's a great comment on Amazon that explains quite nicely how this whole contraption works:
"At one end of the belt you put your Play-Doh in and push down on a lever to set it on its way. You can use various guillotines to chop to different sizes and a machine to stamp different shapes onto the Play-Doh. The stamp is removable and you have different stamps you can choose from. Simple, durable product and kept my three year old occupied for hours. Very messy, and yes you mix all the colours up but the constant moving of the conveyor belt kept him enthralled."
She did think it was very expensive (at £28.99) "but with a younger child too we will get years of use out of it."