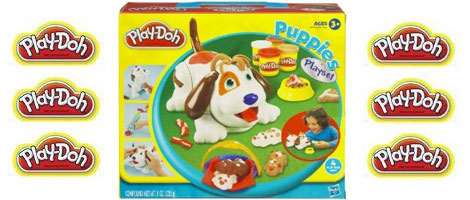 Amazon have a rather nice little offer on this Play Doh Puppy Playtime Playset - it's been reduced from £14.99 down to £7.99
Play Doh fills me with horror! I can't help it - it comes from playing with it at my friend Tanya's house when I was about five.
We got it into the carpet and her mum was livid, I never wanted to go back and play again; not only that, it used to smell of marzipan...I didn't like marzipan!
But, if you're slightly less Play Doh phobic than I am,  then this little Play Doh Puppy Playtime Playset might make a nice little extra Christmas pressie.
It includes a mummy dog figure and two tubs of Play Doh for you to make a little Play Doh puppy family from.
The official blurb says this:
Help this mummy dog figure care for her puppies - but first, you have to create them. Use the basket and bowl moulds to create pretend food and toys for them.
Give your mummy dog a mop of hair, help her make paw prints and then use your Kibble Kranker tool to make lots and lots of pretend puppy food.
Whether your child has Play Doh sculpting skills akin to Michaelangelo, or is just happy creating 'things' - I'm sure they'll have fun with the is Play Doh Puppy Playtime Playset.
I'm picturing kids across the land presenting parents with four-legged Play Doh blobs and, whilst putting on their best Rolf Harris, saying, "Can you tell what it is yet?!" (don't mind me, I'm in a weird mood today!)
Thanks to trataylor over at HUKD